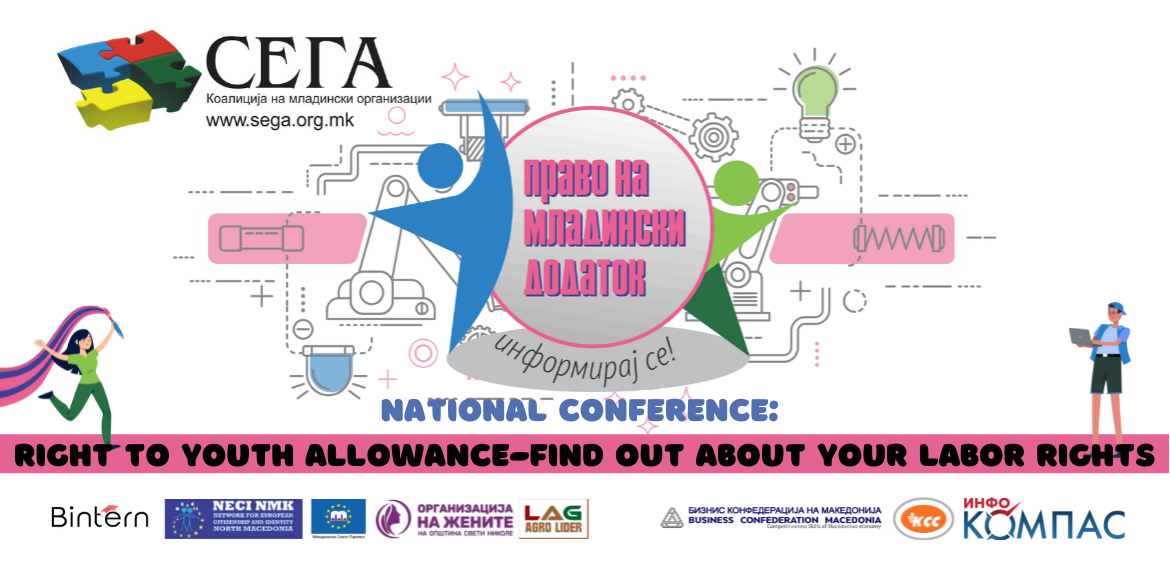 National Conference "Right to Youth Allowance - Find Out About Your Labor Rights"
The conference "Right to Youth Allowance - Be informed about your labor rights" is a final event as part of the national campaign "Right to Youth Allowance"
which took place on December 1, 2021 at the Civic Resource Center - MKC, Skopje and aims to promote the Law on Youth Allowance and present the findings of the Survey on the usefulness and impact of the law and provide key recommendations for its improvement.
The National Campaign "Right to Youth Allowance" is implemented in the period from August to December 2021. Its supporters are: Confederation of Free Trade Unions (KSS), Business Confederation (BC), Info Compas Prilep. Partners in the implementation of the campaign are: Bintern, Network for European Citizenship and Identity North Macedonia - NECI NMK, Youth Council Prilep, Women's Organization - WO - Sveti Nikole, LAG Agro Leader and Volunteers Centre Skopje. The campaign aims to inform young people and employers about the benefits of the Law on Youth Allowance.
Speakers who addressed the event:
Mr. Zoran Ilieski, Executive Director, Coalition of Youth Organizations SEGA:
"Only 10% of the respondents in the country are well acquainted with the Law on Youth Allowance, while 33% have heard about it.
It is worrying that almost 60% of the young respondents heard about the Law for the first time. From the beginning of the campaign until today, the number of beneficiaries of youth allowance has increased by about 140."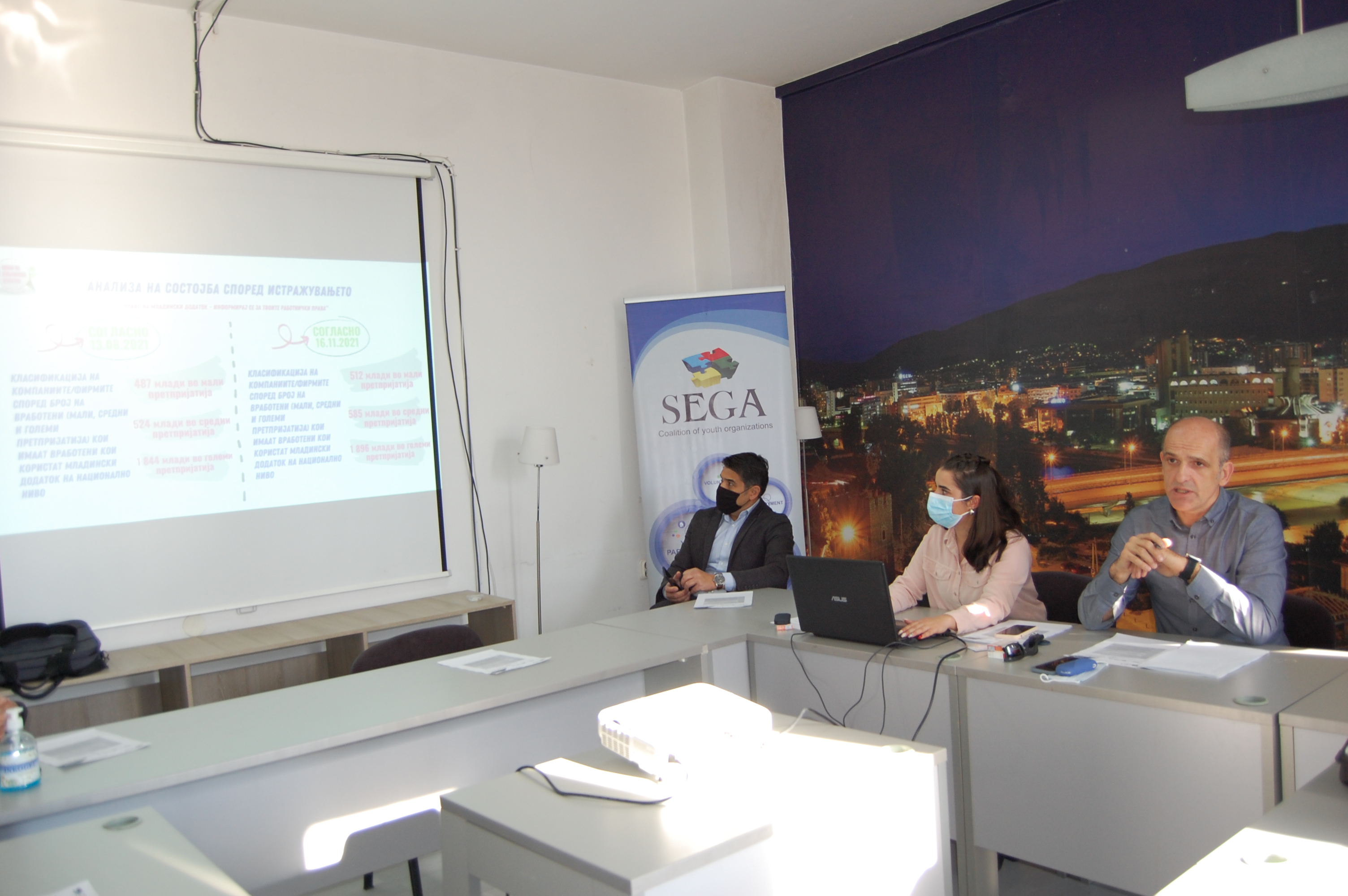 Mr. Gjorgji Tasev, Advisor for Youth and Youth Policies:
"In 2021, there is a budget of 100 million denars for 4000 young people who can use the opportunity. The standard of living of young people is improving, it contributes to the overall economic development of the country.
Comprehensive maximum utilization of the measure is possible only if it is done through local economic councils, municipalities and non-governmental organizations working in this field. What I think is important is for the measure to be decentralized in order to be affirmed by the end users, ie. young people."
Mr. Mile Boskov, Executive President of BCM:
"The mental structure of young people who see the future outside, the dissatisfaction with young people and the modest information system are some of the problems for young people not being interested in this measure or just not being informed. Corporate companies use smart recruitment, which means that they meet all the opportunities offered in the market, and I think that in order to expand this in rural areas, we need a slightly wider range of cooperation and dialogue. In terms of advancing the measure, it remains to be seen whether it is important to increase aid even steadily for rural areas or in terms of income, and perhaps consider moving the 23-year frontier."
The event was attended by representatives of institutions such as the Employment Agency, Business Confederation, Confederation of Free Trade Unions, Agency for Youth and Sports, representatives of civil society organizations and young people aged 15-29.
---