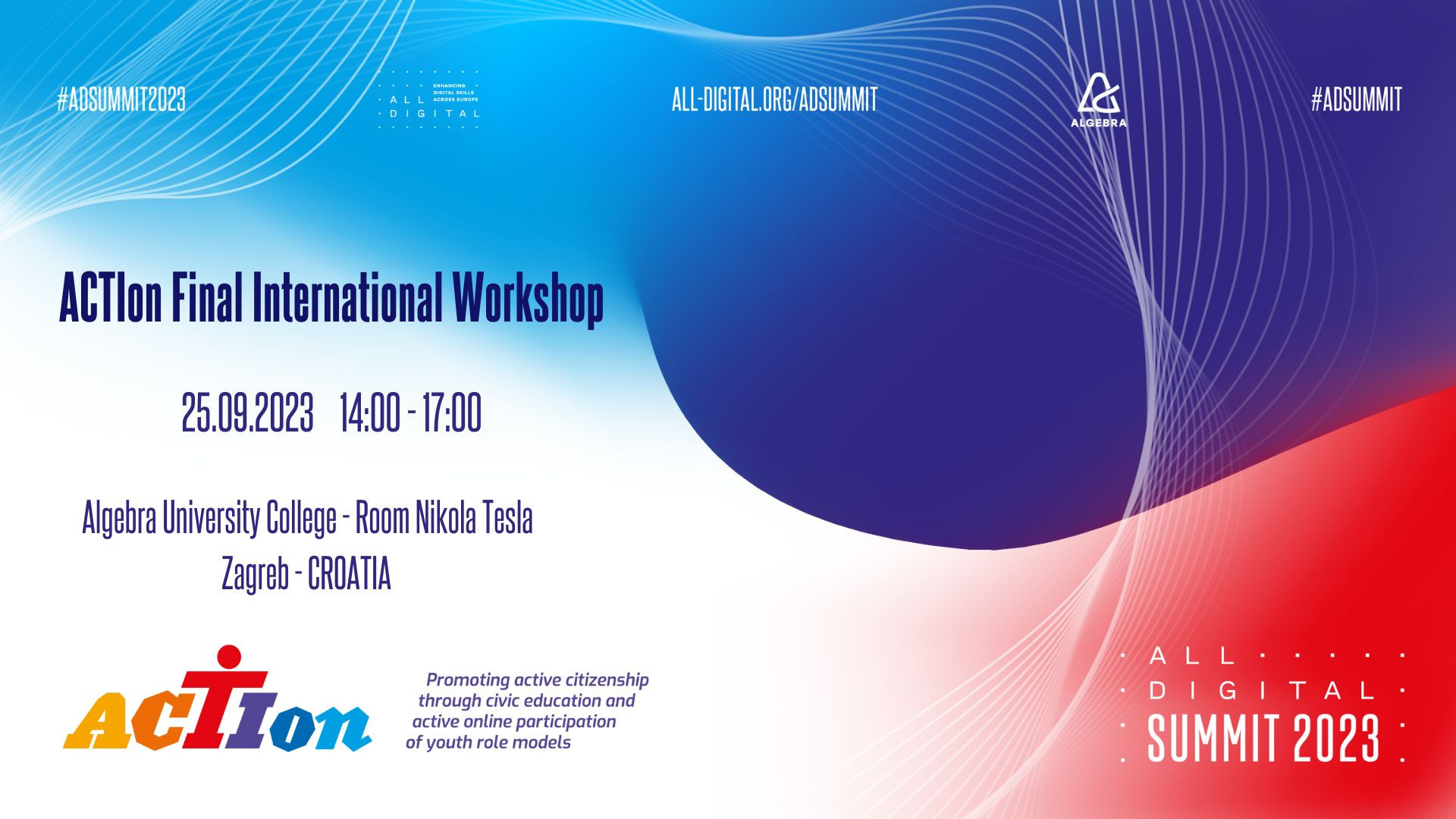 ACTIon Final International Workshop
25 September 2023, 14:00-17:00
Nikola Tesla room, Algebra University Campus, Zagreb, Croatia
Being online is a way of living for young Europeans: According to Eurostat, a large majority of young people in the EU make daily use of the internet, but only a quarter use the full potential of digital technologies to exercise their civic rights, to access health and education services, and for political participation. There is a clear gap in the way young people use digital technologies, and this gap is even wider when it comes to disadvantaged youth.
ACTIon – Promoting active citizenship through civic education and active online participation of youth role models is an Erasmus+ KA3 Social inclusion project that started at the beginning of 2021 to fill this gap. The three-year project aims to train adolescents and young people ( 14-25 years old) from socially disadvantaged areas, as well as minority and refugee groups, to support their integration into mainstream society by enhancing access to health, education, online participation, the labour market and civic engagement.
Come and join us at the ACTIon Final International Workshop to learn about the two ACTIon training programmes: Digital Participation and Active Citizenship (DigiPAC) and Model for Opinion Leaders Activation (MOLA), which were created for formal and non-formal education environments. 
You will also have the opportunity to get hands-on experience in the fields of digital citizenship, civic education, (digital) media literacy and (digital) health literacy by participating in our World Café! Coalition SEGA will be present at the ALL Digital summit as part of the consortium of ACTIon project.
Register to the ALL DIGITAL Summit here and select the ACTIon workshop to join us!
You can download our training programmes here.
---