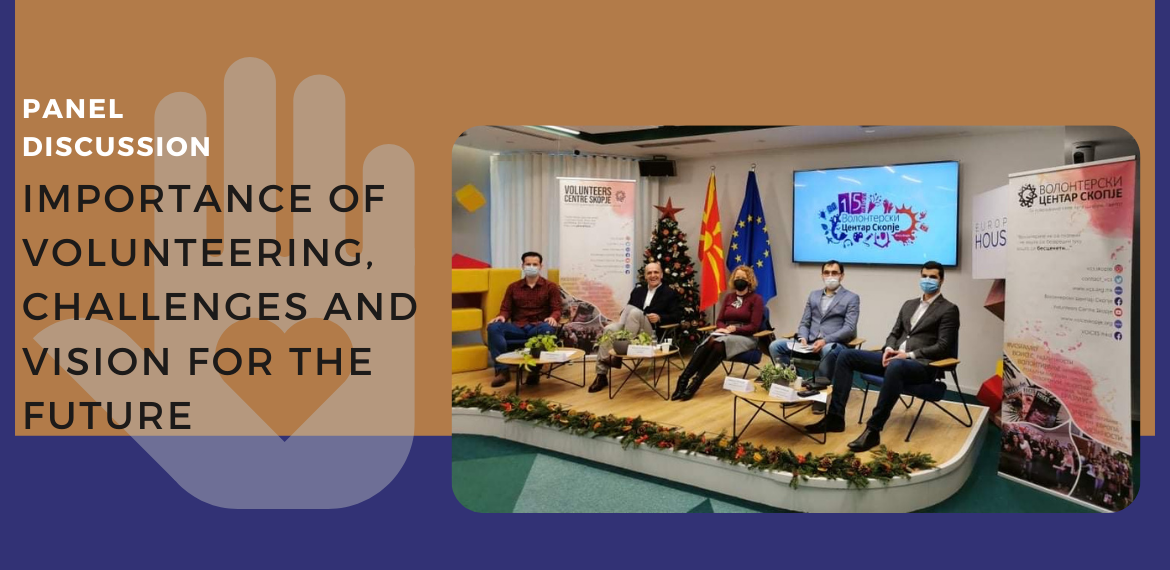 Panel Discussion | Importance of Volunteering, Challenges and Vision for the Future
On December 20, the Executive Director of Coalition SEGA was part of a panel discussion
to promote the volunteer spirit, but also to point out the anomalies in the process, the legal framework, and the necessary support from local and state institutions, organized by Volunteers Centre Skopje as a special occasion of the 15-th anniversary of the organization. 
"That experience changes lives," said director of VCS, Nikola Stankoski, who himself was on a one-year project in Lithuania in 2004. In fact, after his return to the country, the idea of VCS was born, which from then until today is considered the home of about 10,000 young people from Macedonia, who through the organization participated in various projects and activities in the country and abroad.
"We have received over 350 volunteers from abroad, who stay with us and change society. We can all do that, that is why it is important for young people to see the importance of volunteering, it is a process in which you give, but you also receive", stressed Stankoski.
Zoran Ilieski, the Executive Director of SEGA, also noticed the importance of volunteering on local and global processes. He pointed out the need for more active participation of local authorities and the implementation of projects for local volunteers that will enable young people to get involved.
Nikica Kusinikova, director of "Konekt" addressed the legal aspects of volunteering, challenges, and the current status at the national and global level in Macedonia. She stressed that it is extremely important to motivate young people to volunteer and how important it is to promote volunteering in all sectors.
"We work mostly with the 'Erasmus+' and 'European Solidarity Corps' programs and they are available to young people," said Marko Gjorgjievski, director of the National Agency for European Educational Programs and Mobility.
According to the analysis of VCS, over 70% of the young people who through the organization went on long-term projects abroad, returned to the country and with their newly acquired knowledge, skills and experience helped build society.
In the end, it was agreed that volunteering has huge potential that we will need to develop much more. Volunteers Center Skopje will surely be a leader, as it was in the past 15 years.
---