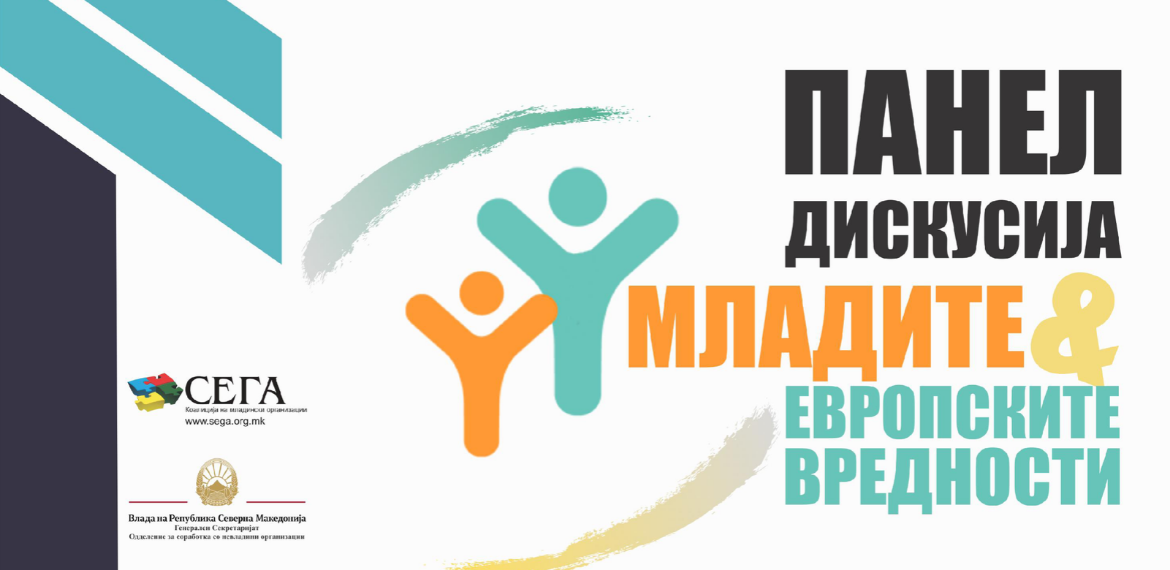 Panel Discussion "Youth and European Values"
Yesterday, February 03, 2020, the Coalition SEGA organized a panel discussion
"Youth and European Values", in the framework of the project of the same name implemented by the Coalition of youth organizations SEGA. The event was held at the Civic Resource Center Skopje, starting at 11 am.
The purpose of the panel discussion was to open a wider debate on current trends in youth in the application of European values, as opposed to the influence and role of different institutions and CSOs in building those values in line with European standards and practices. Representatives of institutions, youth organizations, schools and youth attended the event.
The Director of the Agency for Youth and Sport, Mr. Darko Kaevski stated: "We are continuously and systematically working to improve the situation of the youth through a set of measures such as the Youth Guarantee and other measures implemented by the Government of RNM."
The Executive Director of Coalition SEGA, Mr Zoran Ilieski, said: "Although they do not recognize that they have fewer opportunities, as many as 76% of online active youths face some challenges. Most often economic, geographical, social and health challenges. Young people are most often discriminated against based on sex, age and social status."
Also present at the panel discussion were Ms. Lidija Dimova - Director of the National Agency for European Education Programs and Mobility, Mr. Gjorgi Tasev - Advisor on Youth and Sport of the Government of the Republic of Macedonia, Mr. Sreten Kocevski - Chairman of the Assembly of SEGA and Executive Director of the Community Development Institute in front of more than 40 representatives of schools, CSOs and institutions.
The panel discussion is organized within the framework of the Youth and European Values Project implemented by the Coalition of youth organizations SEGA, financially supported by the General Secretariat of the Government of the Republic of Northern Macedonia through the Program for financial support of associations and foundations.
The project aims to contribute to a developed and sustainable civil society sector that adequately addresses the needs of young people. According to the needs of youth CSOs, the project provides a methodology that encompasses two key segments aimed at strengthening the capacity of youth organizations to promote European values in line with European trends and practices.
---