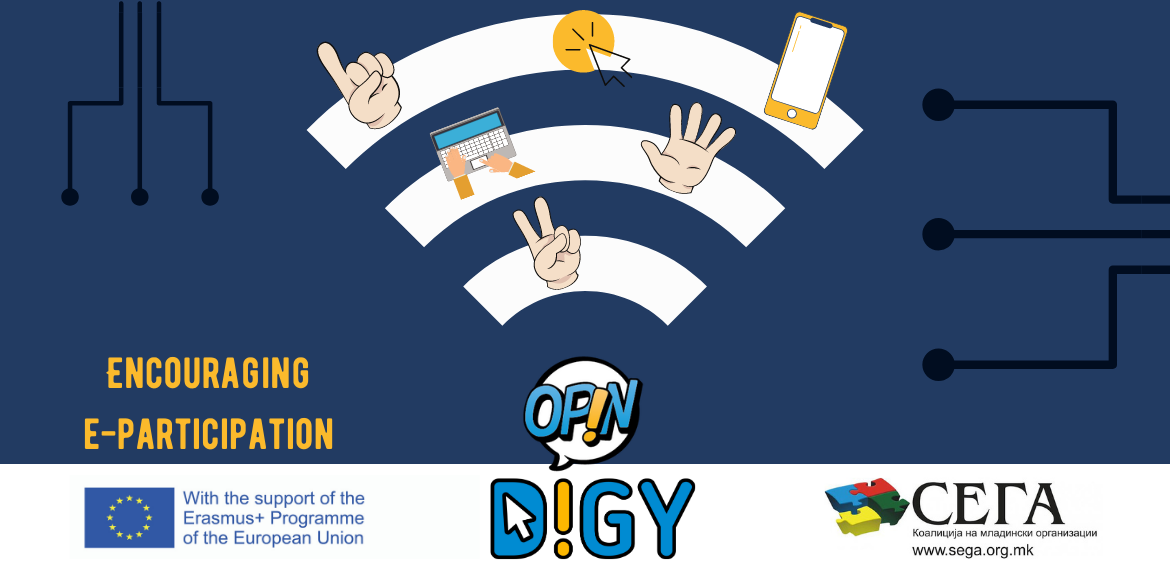 DIGY | Encouraging e-participation
Start: 01-02-2021 – End: 31-10-2021
Overall objective: Empowering young people's voices in the election processes
Specific objectives:
To highlight the importance of youth issues on the next local elections in the Municipality of Prilep
To encourage youth to take an interest in digital youth participation
With this project SEGA will aim at promoting the democratic values and encourage youth participation in the upcoming local elections in September 2021 in the Municipality of Prilep. Moreover, SEGA will advocate the political parties to consider the actual needs of young people in their election programmes through conducting set of focus groups at local level in order to identify the main specific needs of youth in several areas. The focus groups results will be run through OPIN and will be summed-up into a policy brief that will be presented to the political parties and the wider public. SEGA will also raise the issue of the influences that the civil society have or may have in the election processes, also through OPIN.
Furthermore, SEGA will conduct set of campaign activities in order to motivate young people to have their say and practice their right to participation, both digital and in-person. SEGA will create short video in order to widely reach young people through the electronic social tools and media. Aiming to directly reach young people SEGA will cooperate with the 5 high schools in the Municipality of Prilep through their school organizations. For the best practice section, SEGA will produce media products (videos and photos) with testimonials and/or interviews with the participants.
Direct beneficiaries of the project will be young people aged 15 – 29 from the Municipality of Prilep. Indirectly, through the activities the project campaign will reach young people and youth organizations from all over the country. The duration of the project is within the period of February – October 2021.