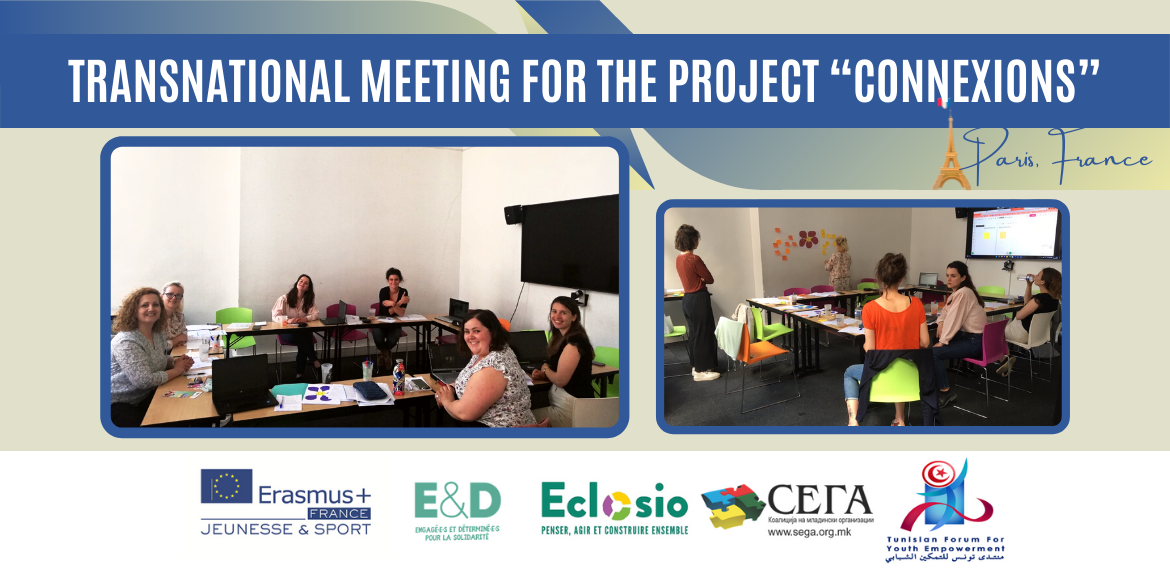 Transnational meeting for the project "Connexions" in Paris, France
A team from Coalition SEGA is part of the Transnational meeting organized by the Engage-e-s&Determine-e-s E&D in Paris, France, from 9th to the 13th of May 2022.
This Transnational meeting and Training gathered participants from Macedonia, Belgium, France and Tunisia that are partners in the project Connexions, financed by European Commission trough Erasmus+ programme, Key Action 2, Strategic partnership and innovation.
The objectives on the meeting is partners to meet and develop detail work plan for the project and discus further steps and activities within the project.
The objective of the project is to reinforce the exercise of citizenship through digital intercultural practices. On the one hand, by analyzing the acquisitions of the young people during this type of meeting, then to propose a study to tend towards digital practices compatible with the development of knowledge and intercultural competences. The young participants will thus reflect on how to develop intercultural skills, via online tools (platforms, social networks, serious games...), and thus reinforce the awareness and the exercise of their European and World citizenship. The partners wish to allow all young people to experience the richness of intercultural encounters, whether physical or digital. On the other hand, by discovering and appropriating practices of digital activism. Digital technology appears more and more as a field of engagement, as well as a vector of peer-to-peer awareness. Moreover, if the meetings will allow to take into account the opportunities of digital technology, it will also be necessary to consider the issues of inequalities of access to digital technology or the carbon footprint of digital technology.
---