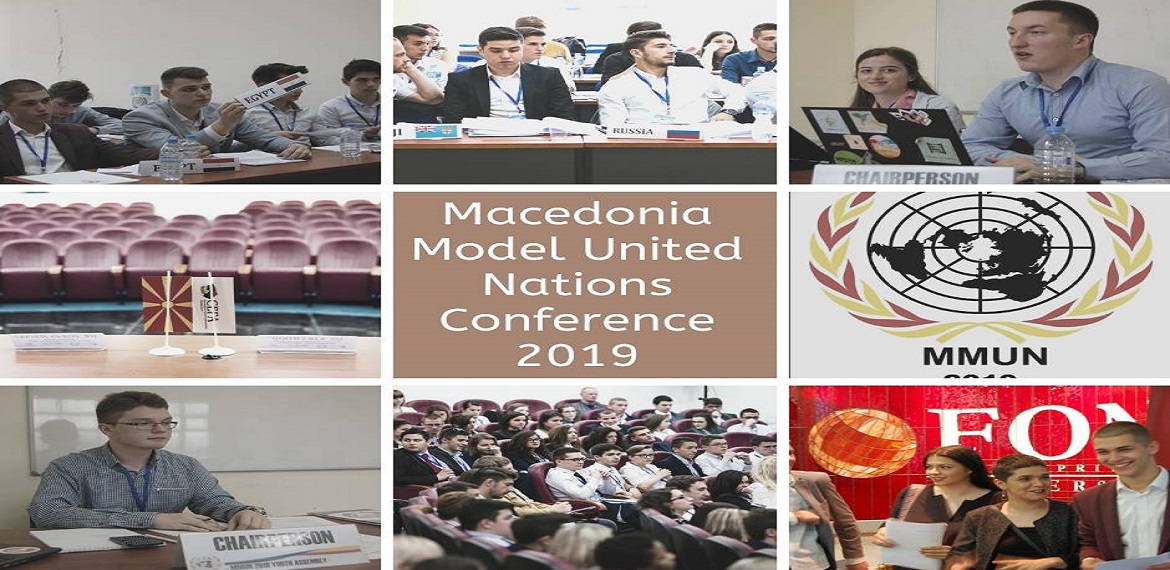 "Conference: Macedonia Model of the United Nations 2019"
Coalition of youth organizations SEGA organized the 8th National Conference "Macedonian Model of the United Nations", which was held on 13.01.2019 in the premises of the European University in Skopje, starting at 10 am.
 In the past period, the Coalition of youth organizations SEGA led the program Macedonian model of the United Nations, where a series of activities were held as workshops, trainings and sessions together with club coordinators of teams . The program aims at simulating the work of the true United Nations to strengthen the capacities of young people in Macedonia in the field of advocacy, lobbying, diplomacy, peaceful conflict resolution, public speaking and writing. At the conference, about 80 young people from Skopje, Kavadarci, Prilep, Stip and Gevgelija participate in the conference. They were delegates from several countries of the United Nations such as Egypt, Ukraine, Germany, Russia, France, USA, Great Britain, India, Japan, North Korea, China, Greece, Italy, etc.
 The main speakers at the opening ceremony of this conference were: Elena Lazova as Secretary General of the Macedonian Model of the United Nations, Marice Treneska from the Coalition of youth organizations SEGA and Samoil Krstevski representative from the European University.
 The opening ceremony was greeted by the General Secretary, Ms. Elena Lazova, who said:
"Distinguished delegates, I am very pleased that you are in such a large number. Today is the day where we will present to the public what is what we did in the past months. I expect you to be active and give the best of you. "
 Then the delegates addressed Ms. Marice Treneska as a representative in the Coalition SEGA who said: "I am very glad to see  so many young enthusiasts who want to know about the functioning of the UN model. Coalition SEGA actively advocates the development and implementation of youth policies at the local and national level, connects and strengthens youth organizations in order to activate the youth and improve the conditions for their personal and professional development "
 At the end, Mr. Samoil Krstovski from the European University said: "Welcome to the European University in Skopje, I hope that you will enjoy today the UN model, and as young generations, you will be our students in the future. "
The delegates took part in 6 committees, namely: General Assembly, Youth Assembly, UNICEF, Human Rights Council, Security Council and Gender Equality Unit - UN Women. In these committees, delegates debated where the real problem faced by their countries was resolved, and finally they had to make a joint resolution.
 At the end, a closing ceremony was held where certificates were awarded to all participants at this conference and were named: Best Delegate, Best Club Coordinator, Best Team and Best Chairman.
 Coalition of youth organizations SEGA expresses great gratitude to our supporters and sponsors: European University Skopje, Kozuvchanka and Sinalco Kavadarci, Bakeries Giuliano and Alex Prilep and Ladna voda Skopje.
More photos from the Conference on the following link.
---