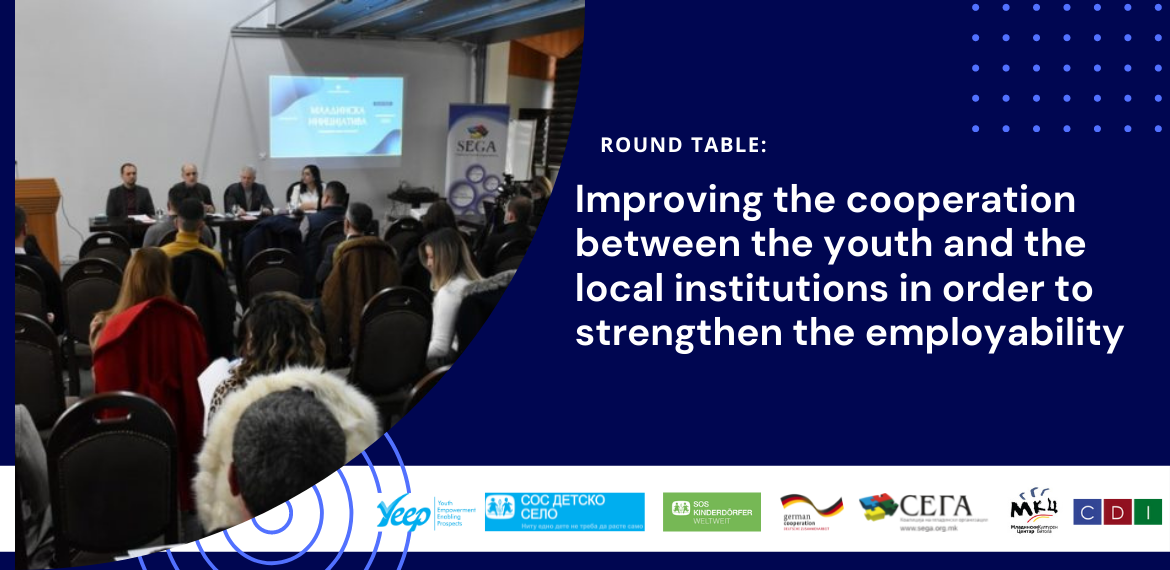 Round Table | Improving the Cooperation Between the Youth and the Local Institutions in Order to Strengthen the Employability
"Improving the cooperation between the youth and the local institutions in order to strengthen the employability" was the topic on which in the hotel "Crystal Palace" on December 16 the young people and the representatives of the institutions whose competencies touch with the youth policies discussed.
In his introduction and presentation of the project, the Executive Director of Coalition of Youth Organizations SEGA, Zoran Ilieski said that the project implemented in the Western Balkans is called "Youth Empowerment Enabling Prospects", funded by the German Government, and in Macedonia is implemented in three municipalities in Prilep, Tetovo and Bitola including the coordination in Skopje.
He also added that we are in communication and coordination with local businesses in the city and that the challenge that young people face after completing the educational process is entering the labor market and colliding with the reality of not having work experience.
The Mayor Borche Jovceski, thanked for the invitation to attend the round table, and said that this is the beginning of a joint and successful cooperation in which together with local institutions will contribute to the integration of young people in the labor market.
The President of the Council of the Municipality of Prilep, Dejan Prodanoski, emphasized that through the establishment of the Youth Council of Prilep in the future will improve the cooperation with young people.
The round table will contribute to raising awareness and networking among key stakeholders for adequate support and integration of young people in the labor market.
The event was organized by Coalition of Youth Organizations SEGA, in cooperation with SOS Children's Village, within the project "Strengthening Youth through New Opportunities" (YEEP) who supported a youth initiative aimed at improving the employability of young people at the local level.
---